---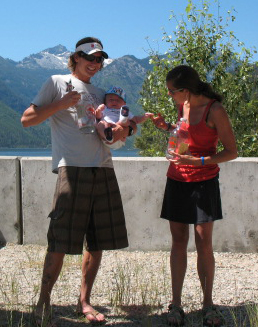 2013 Lake Como Triathlon
Saturday July 27th at Lake Como Montana, just south of Hamilton
BREAKING NEWS - Prize Money for the top 3 men and women overall finishers. Ravalli Orthopedics & Sports Medicine and River Rising Bakery and Deli have provided cash prizes to the top 3 finishers more...
BREAKING NEWS - ">XTERRA Wetsuits is offering a promo code for all participants good for 60% off their wetsuits. Look for an email with details soon.
Registration is now open. The special use permit limits the event to 100 total participants so register early. Registration will accept aprox 60 - 70 solos and 15 - 20 teams.
Every year the Lake Como Triathon has a great turn-out and is loads of fun. A special thanks to all the participants and volunteers who made this a great event last year.
If you or someone you know is interested in volunteering this year Sign Up Here and we will keep you informed as the race date approaches.

Proceeds from the event go to support Lost Trail Ski Patrol, Lake Como Trails Club, Trapper Creek Job Corp Student Government, and Ravalli County Search and Rescue.
Previous years important Links:  Race Results ~ 2012 Pictures ~ 2011 Pictures ~ 2011 Sponsors ~  2010 Pictures
~~~~~~~~~~~~~~~~~~~~~~~~~~~~~~~~~~~~~~